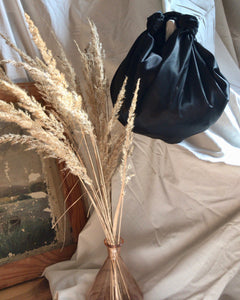 Raven black embroidered satin Furoshiki bag, it's beautifully hand-crafted, unique one-off a kind design, made of vintage fabric and embroidery that I have collected through the years.
Embellishments that I have found in various places, and each of the pieces has got a little story behind it.
Oor Inspiration for creating our Bags is Furoshiki shape, which is Japanese traditional technique of folding and knotting cloth, which can have variety of shapes and designs. And it's ancient way of carrying  food and other things. It's sustainable way of carry goods.
Made with love and passion for timeless, long lasting creations, that you can pass it on to the next generations and cherish forever.
As a brand, we are trying to improve our sustainable, circular approach to fashion and make our beautiful Planet not overload with waste, thats why we are using fabric we collected throughout the years, and not buying anymore new made fabrics. 
The bag is easy to wash. (not in washing machine, only delicate hand wash or dry clean )
The Bag it's plain black on both sides.
Fabric composition:
Vintage satin polyester and vintage silver detailing (clasp)
Dimensions:
24x19x17 cm
Washing instruction:
Dry clean / Hand wash gently
No iron/ use steam 
The bag goes perfectly with everyday otfit and also it's easy to dress it up with hills or dress. 
It's suitable for any occassions from party's, theatre, dinner to everyday at work. 
Looks perfect with dresses and jeans and trainers too!
The Raven plain satin bag is far and away, one of our most popular items. People can't seem to get enough of it.

Inventory Last Updated: Sep 25, 2023